Okay... Captain Procrastinator strikes again. I had this elaborately detailed commentary on the Oscars all mapped out, but school and my current enslavement at the OG has been so "cray cray" that I had no choice but to put off the blog. Regardless, I am ready to throw out my predictions etc. So without further adieu...
Best Supporting Actress...
Will Win: Octavia Spencer, The Help
Should Win (Matty's pick): Jessica Chastain, The Help
Don't get me wrong, Octavia Spencer was incredible in The Help, but I felt at times that she was more a caricature than a character. Believe me there's a difference. She stole the comedic show, but I felt like Chastain's comedic moments were less "over-the-top" and more grounded in "white-trash" reality. Also, Chastain's moments more fully humanized the story's theme that "you is smart. you is kind. you is important." On the outside she had it all, but inside she was entirely conflicted and I think that made The Help a much better film. Even still, I would not be surprised or upset if Melissa McCarthay of Bridesmaids ran away with Oscar Gold here. She does seem to have the "Marisa-Tomei-in-My-Cousin-Vinnie" factor on her side.
Best Supporting Actor...
Will Win: Christopher Plummer, Beginners
Should Win (Matty's pick): Max Von Sydow, Extrememly Loud &Incredibly Close
I loved Plummer as the 70 year old who finally comes out of the closet. His role is a unique one that defintely goes against his past filmography, however I didn't exactly find his acting that incredible. His "son" in the film Ewan McGregor was far better in my opinion. Von Sydow should win this. His "silent" acting was full of subtle nuances that simply spoke louder than words. Plus I loved, Extremely Loud and thought the acting all around was "Oscar-worthy."
Best Actress...
Will Win: Viola Davis, The Help
Should Win (Matty's pick): Viola Davis, The Help
Hands down the performance of the year and so far this very new decade is Viola's turn as Aibileen in The Help. It would be criminal to NOT see her win. If there was one person I wouldn't mind see winning here, It would have to be Rooney Mara in The Girl with the Dragon Tattoo. She took some serious risks that both worked out and made for a memorable turn as the truly twisted Salander.
Best Actor...
Will Win: Jean Dujardin, The Artist
Should Win (Matty's pick): TIE. George Clooney, The Descendants. Brad Pitt, Moneyball.
Okay, I've seen The Artist. It was really pretty good. I laughed and thought overall Dujardin did a great job making a silent film star come to life. Nonetheless, I did feel like the film in general was/is pretty gimicky. If the film wasn't almost entirely silent, I'd say Dujardin nor the film itself would be looked at for any real Oscar love. Both Clooney and Pitt deserve this. Honestly, I'd be completely happy with a full blown tie between the two of them. Clooney turned in his best performance in his illustrious career and Pitt was no different. Honestly how have neither of these guys won Oscars for acting? I mean didn't Clooney play Bruce Wayne in Batman & Robin? Joking...
Best Director...
Will Win: Michel Hazanavicus, The Artist
Should Win (Matty's pick): Martin Scorsese, Hugo
Again, The Artist will win, but I found nothing about the direction worth a nomination. It's gimcky as I said before. Scorses resurrected 3D. Yes, he actually made it relevant for thatres today. It also doesn't hurt that his film serves as a paean to the history of cinema as well.
Best Picture...
Will Win: The Artist
Should Win (Matty's pick): The Descendants
Though Oscar will undoubtedly pick The Artist, I'm still holding out hope for The Descendants. I have no problem whatsoever with honestly any of the other nominees winning. The Help was probably the most talked about film of the year, while Hugo was the most beautiful. Extrememly Loud & Incredibly Close is easily the biggest longshot, but I really enjoyed the film (I've seen it 3 times--oops!). Moneyball wouldn't be a bad choice, nor would Tree of Life. I'm just personally not sold on The Artist, but unfortunately Hollywood is.
Well there you have it... the Oscars start in literally an hour, so we'll have to wait and see how right and how wrong I am. One thing's for sure, I'm really excited. Time for a Bridesmaids awkward dance?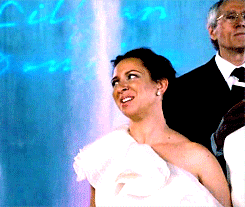 Yup, I just did this right now... I have no shame! Happy Oscar everyone (All 8 of you)... ;)