Seriously, one of those days where you go, "Is this it?" I need a laugh on the fly... something to cheer me up and of course there's NO
Jersey Shore
in sight nor is there Michael Scott. Why am I having "one of those days" where everything, including my Mickey D's snack wrap is far from satisfying... I dunno. Maybe it's the lack of sleep or the lack of
Bridesmaids
in my life? (Kristen Wigg, please make a sequel!) Maybe it's because JoePa is no longer a college football coach? Maybe it's the fat that I can't get the song "Can't stop falling in love," from the
Like Crazy
trailer out of my head (It's now officially on repeat on my iPod).
And maybe most of all it's just one of those days... Meh
Regardless, It is what it is...
Off to African American Lit.
If you see me maybe you could tell me this...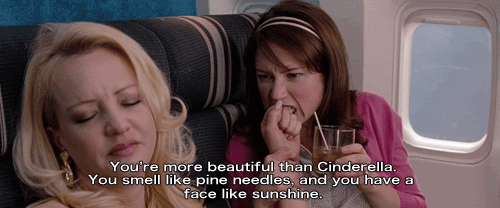 Yep, if someone said this to me, it'd definitely make my day...